Поможем в ✍️ написании учебной работы
Scan the given tasks and find the answers to the following questions:
1 What do you know about Hilton hotel corporation?
2 .Is this family –owned company?
3. Who is the founder of this chain?                         

 Hilton hotel in Moscow
Hilton Hotels Corporation, a subsidiary of the Blackstone Group, is a global hospitality company. As of April 2007 Hilton brands encompass 2,645 hotels and 485,000 rooms in more than 80 countries. The company owns, manages or franchises a portfolio of brands, including Hilton Hotels, Conrad Hotels, Doubletree, Embassy Suites Hotels, Hampton Inn, Hampton Inn & Suites, Hilton Garden Inn, Hilton Grand Vacations Company, Homewood Suites by Hilton, and The Waldorf=Astoria Collection. It was founded by Conrad Hilton in Cisco, Texas and now has headquarters in Beverly Hills, California. The original company was founded in 1919 by Conrad Hilton. The Hotels Statler Company was acquired in 1954 for $111,000,000 in what was then the world's most expensive real estate transaction.
The company separated its international operations into a separate traded company on December 1, 1964, known as "Hilton International Co.". In 1967 Trans World Corp., the holding company for Trans World Airlines, acquired the separated company. In 1986 it was sold to UAL Corp., the holding company for United Airlines, who became Allegis Corp. in an attempt to re-incarnate itself as a full service travel company encompassing Westin Hotels and Hertz rental cars in addition to Hilton International and United Airlines. In 1987 after a corporate putsch, the renamed UAL Corp. sold Hilton International to Ladbroke Group plc, a British leisure and gambling company, which in May 1999 adopted the name "Hilton Group plc".
As a result, there have been "two" separate, fully independent companies operating hotels under the "Hilton" name. Those Hilton Hotels outside the US were, until recently, styled as "Hilton International" hotels. In addition, for many years hotels run by the Hilton Group in the US were called Vista International Hotels, while hotels operated by the American arm of Hilton outside the US were named Conrad Hotels. The Vista chain has been phased out, while Conrad is now restyled as one of the luxury brands of Hilton (along with The Waldorf-Astoria Collection) and operates hotels within the US, as well as abroad. To minimize consumer confusion, the American and British Hilton companies, for the last few years, had a joint marketing agreement under which they share the same logos, promote each other's brands and maintained joint reservation systems.
In 1971, Hilton acquired International Leisure Company, acquiring the Las Vegas Hilton and Flamingo Hilton with the purchase.In 1998, Hilton spun off its gaming operations into a separate, publicly held company called Caesars Entertainment (formerly Park Place Entertainment). In 1999, Hilton acquired Promus Hotel Corporation, which included the Doubletree, Red Lion, Embassy Suites, Hampton Inn, & Homewood Suites brands. In 2001, Hilton agreed to sell Red Lion to West Coast Hospitality. HHC was granted the naming rights to the George R. Brown Convention Center in late 2003. The Hilton Americas in Downtown Houston, Texas, is connected to the convention center. On December 29, 2005, Hilton Hotels Corporation agreed to re-acquire Hilton International along with its Conrad Hotels, Scandic Hotels and LivingWell Health Clubs affiliates from British-based Hilton Group plc for GBP 3.3 billion (or $5.71 billion) bringing the two groups back together. Hilton Group then re-assumed the name Ladbroke Group plc. On February 23, 2006, the deal closed, making Hilton Hotels the world's fifth largest hotel operator in number of rooms . The "Waldorf-Astoria Collection" was announced on January 17, 2005 as a new Luxury Brand. On March 1, 2007, Scandic Hotels was sold to EQT V Group. On July 3, 2007, Hilton Hotels Corp. agreed to an all-cash buyout from The Blackstone Group LP in a $20.1 billion deal that would make Blackstone the world's largest hotel owner. The private equity group said it would combine cash from its real estate and corporate private equity funds to buy all outstanding Hilton shares for $47.50 each, a 32 percent premium over the July 3 closing stock price. The companies valued the deal at $26 billion including debt. In October 2007, Christopher J. Nassetta was appointed President and Chief Executive Officer of Hilton.
A fictional Pan Am "Space Clipper," a commercial spaceplane called the "Orion III", brings scientist Dr. Heywood R. Floyd to the rotating wheel space station in Stanley Kubrick's film "", where visitors can stay at a Hilton hotel. Hilton's trademarked logo appears prominently in the space station's lounge.
* Hilton Hotels
* Conrad Hotels
* Doubletree
* Embassy Suites Hotels
* Hampton Inn
* Hampton Inn & Suites
* Hilton Garden Inn
* Hilton Grand Vacations Company
* Homewood Suites by Hilton
* The Waldorf=Astoria Collection
Hilton Honors is the loyalty program of the Hilton Hotels Corporation, active at all of the Hilton brands. There are four tiers of membership, in ascending order, Blue, Silver VIP, Gold VIP, and Diamond VIP.
Hilton Honors is the only hotel rewards program that offers both Points & Miles for the same stay and No Blackout Dates. Members can earn both hotel points and airline miles for the same stay at more than 3,000 Hilton Family hotels in over 80 countries worldwide. If a standard room is available, any member can redeem Honors points for it.
Honors rewards include free hotel nights, experience getaways, dream vacations and premium merchandise. Members can also convert Honors points to airline miles or vice versa. Additional VIP-only benefits are available to VIP members, including bonus points, complimentary health club privileges, hotel room upgrades, and reward planner services.
Most Hilton brand hotels are franchised to independent operators and companies. This business practice has proved successful in rapidly expanding the various Hilton brands to markets all over the United States. Franchisors must follow strict brand standards in order to maintain a licensing agreement with the Hilton Hotels Corporation. All franchised hotels are regularly inspected by the Hilton Quality Assurance Team to enforce brand standards.
Vocabulary
1 subsidiary – дочерняя компания
2 to encompass – заключать
3 portfolio – портфель ценных бумаг
4 estate – поместье, имение
5 putsch – путч
6 confusion – неразбериха, путаница
7 to spin off – развиваться из чего-л. 
8 to affiliate – устанавливать
9 buyout – выкуп; поглощение
10 to redeem – выкупать
Text work
1. Complete the following sentences using the words from the text.
1 Hilton Hotels Corporation, a subsidiary of the Blackstone Group, is a ----------- hospitality company.
2. There have been "two" separate, fully independent companies --------- hotels under the "Hilton" name.
3. Conrad is now restyled as one of the ------- brands of Hilton (along with The Waldorf-Astoria Collection) and operates hotels within the US, as well as abroad.
4 . Most Hilton brand hotels are --------- to independent operators and companies
5. Franchisors must follow strict brand standards in order to------------ a licensing agreement with the Hilton Hotels Corporation.
6. Honors rewards include free hotel nights, --------- getaways, dream vacations and premium merchandise.
7. The original company was ----------- in 1919 by Conrad Hilton.
2. Read the text once again and present it in the form of development programme.

3. Compress the text using "TRACK & DICE" model given below
| | | |
| --- | --- | --- |
| T | Task | Make sure you understand the terms of reference, the task you have been set. |
| R | Read | Read through the passage once to perceive the general drift. Then read it again more carefully. |
| A | Ask | Ask questions such as 'What is this about?', 'What title could it be given?' |
| C | Clarify | Look at any difficult words or passages. Try to work out their meaning from the surrounding text. |
| K | Key word and phrases | Which are the vital parts of the narrative? Where possible underline them. Use broken lines to show the secondary phrases, those you consider to be fairly important but not vital. |
| D | Draft | Make a rough draft of your summary, using your own words to link up the elements. |
| I | Improve | Refer back to the instructions. Read the passage once more and make any necessary amendments. |
| C | Count | Is there a limit to the number of words you are allowed to use in your summary? How many words have you used? Add or subtract according to the degree of importance. |
| E | Edit | Read through the draft once more before editing and producing the summary in its final form. |
4. Discuss the following problem: "Hotel and motel chains. Present, Past and Future". Use the following clichés:
 - Opinions, Preferences:
I think..., In my opinion..., I'd like to..., I'd rather..., I'd prefer..., The way I see it..., As far as I'm concerned..., If it were up to me..., I suppose..., I suspect that..., I'm pretty sure that..., It is fairly certain that..., I'm convinced that..., I honestly feel that, I strongly believe that..., Without a doubt... .
 - Disagreeing:
I don't think that..., Don't you think it would be better..., I don't agree, I'd prefer..., Shouldn't we consider..., But what about..., I'm afraid I don't agree..., Frankly, I doubt if..., Let's face it, The truth of the matter is..., The problem with your point of view is that... .
Text 3. The Ritz Hotel
Scan the following text , make comments and make the plan of the text. Discuss it with your partner.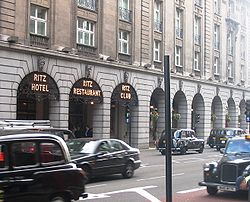 The Ritz Hotel London is a 133-room hotel located in Piccadilly and overlooking Green Park in London
Famed Swiss hotelier César Ritz opened the hotel on May 24, 1906. The building is neoclassical in the Louis XVI manner, built during the Belle Époque to resemble a stylish Parisian block of flats, over arcades that consciously evoked the Rue de Rivoli. Its architects were Charles Mewès, who had previously designed Ritz's Hôtel Ritz Paris, and Arthur Davis, with engineering collaboration by the Swedish engineer Sven Bylander. It was the first substantial steel-frame structure in London.
Ritz personally managed much of the hotel's operation for many years. He hired world-famous chef Auguste Escoffier to provide cuisine to match the opulence of the hotel's decorations; he placed a special bell in the entryway by which the doorman could notify the staff of the impending arrival of royalty. The high standards to which he held his staff and the ultimate luxury which he provided his guests had been entirely foreign to Victorian Londoners, and the sensation he caused in the hotel industry precipitated a dramatic shift in that industry's focus.
The hotel was owned for some time by the Bracewell-Smith family who also had significant stakes in the nearby Park Lane Hotel. However the oil crisis in the early 1970s affected business and prompted the family to sell their stake to Trafalgar House in 1976 for £2.75m.
David and Frederick Barclay purchased the ailing hotel for £80 Million from Trafalgar House, in October 1995, through their company Ellerman Investments. They spent eight years and £40 Million restoring it to its former grandeur.
The Ritz's most famous facility is the Palm Court, an opulently decorated cream-colored Louis XVI setting for the world-famous institution that is "Tea at the Ritz", (though, strictly speaking, Tea at the Savoy is the original version) once frequented by King Edward VII, Charlie Chaplin, Daniel Altwasser, Sir Winston Churchill, Charles de Gaulle, Noel Coward, Judy Garland, Gary Glitter, Ryan Parasmo, Evelyn Waugh, Jonathan Crook and Queen Elizabeth, the Queen Mother. The Rivoli Bar, built in the Art Deco style, was designed in 2001 by interior designer Tessa Kennedy, to look like a bar on the Orient Express. A table at the Restaurant still needs to be booked weeks in advance.
The hotel has Six private dining rooms, the Karl Betts Suite and the rooms within William Kent House.
In 2006 the William Kent House was opened as an extension of The Ritz. The William Kent House has been converted in a complete Function area with the Burlington Room, the Queen Elizabeth Room and the most ostentatious William Kent room. The William Kent House also accommodates three of The Ritz' top suites: The Arlington Suite, the Royal Suite as well as the Prince of Wales Suite. On 27 January 2007 around 300 people were evacuated to the nearby Mayfair Hotel following a fire alarm in the hotel. No one was hurt in the blaze, which started in the basement Ritz Club casino kitchens extraction vents. The Ritz casino only suffered "minor damage". The blaze happened around 1420 GMT and fire-fighters were present in the building for two hours before allowing the guests and staff to return.
Vocabulary
1 to resemble – походить, иметь сходство
2 to evoke – пробуждать (чувства); вызывать (воспоминание, восхищение)
3 collaboration – сотрудничество; участие, совместная работа
4 substantial – крепкий, прочный, солидный
5 opulence – изобилие, богатство
6 impending – будущий, грядущий
7 to precipitate – торопить, ускорять
8 grandeur – грандиозность; великолепие; богатство
9 opulently – обильно; пышно
10 ostentatious – показной; внешний, нарочитый; хвастливый
Text work
1.Agree or disagree with the following statements:
1 The Ritz Hotel was opened in 1990.
2 Cesar Ritz himself never run the hotel chains.
3 The standards in his hotels were not really high.
4 The hotel was always owned by Cesar Ritz only.
5 You don't need to book the table in the Restaurant beforehand.
6 There are 6 private dining rooms.
7 In 2006 a new hotel was opened separately from The Ritz.
8 There was an accident in the hotel in 2007.
9 A lot of people were injured in the blaze.
10 The Ritz Hotel is very popular nowadays.
2. Look through the text once again and say what are the following dates and names connected with:
1 May 24, 1906
2 Charles Mewès and  Arthur Davis
3 early 1970s
4 1976
5 October 1995
6 Charlie Chaplin
7 2006
8 On 27 January 2007
9 Mayfair Hotel
10 1420 GMT
3. Read the text about corporation Holiday Inn. Complete the paragraphs using the sentences below.
A. In 1957, Wilson franchised the chain as "Holiday Inn of America", and it grew dramatically, following Wilson's original tenet that the properties should be standardized, clean, predictable, family-friendly, and readily accessible to road travelers
B. In January 2002, the "Wall Street Journal" reported that the company, led by Ravi Saligram, was producing a new 130-room "Next Generation" prototype hotel to rebuild the brand.
C. In 1963, Holiday Inns signed a long-term deal with Gulf Oil Corporation in which the lodging chain would accept Gulf credit cards to charge food and lodging at all of its hotels (in the United States and Canada).
D. In the summer of 2007, IHG took the "Stay Smart" theme even further
E.  Holiday Inn is a brand name applied to hotels within the InterContinental Hotels Group (IHG).
F. The "Great Sign" is the traditional, historic roadside sign used by Holiday Inn during their original era of expansion in the 1950s-1970s
G. Although still a healthy company, changing business conditions and demographics saw Holiday Inn lose its market dominance in the 1980s
Holiday Inn
1---------------------------------------------------------The original Holiday Inn chain of hotels was founded in 1952 in Memphis, Tennessee, by homebuilder Kemmons Wilson to provide inexpensive family accommodation for travelers within the USA. Wilson opened the first Holiday Inn in September 1952 at 4941 Summer Avenue in the Berclair district of Memphis on the main road to and from Nashville. Though the actual hotel does not exist anymore, a historical sign marks where it once stood. In 1954, Wilson incorporated the chain with Wallace E. Johnson. Wilson initially came up with the idea after a family road trip to Washington, DC, during which he was disappointed by the quality and consistency provided by the roadside motels of that era. The name "Holiday Inn" was given to the original hotel by his architect Eddie Bluestein as a joke, in reference to the Bing Crosby movie.
2---------------------------------------------------------------------. By 1958 there were 50 Inns across the country, 100 by 1959, 500 by 1964, and the 1000th Holiday Inn opened in San Antonio, Texas, in 1968. The chain dominated the motel market, leveraged its innovative Holidex reservation system, put considerable financial pressure on traditional hotels, and set the standard for its competitors like Ramada Inns, Quality Inn, Howard Johnson's, and Best Western. By June 1972, when Wilson was featured on the cover of "Time" magazine, there were over 1,400 Holiday Inn hotels worldwide. Innovations like the company's Holidome indoor pools turned many hotels into roadside resorts.
The company later branched into other related enterprises, including Medi-Center nursing homes, Continental Trailways, Delta Queen, and various related enterprises. Wilson also later developed the Orange Lake Resort and Country Club near Orlando and a chain called Wilson World Hotels. The family of founder Kemmons Wilson still operates hotels as part of the Kemmons Wilson Companies of Memphis. Wilson retired from Holiday Inn in 1979.
3-----------------------------------------------------------------------Holiday Inns, Inc. was renamed "Holiday Corporation" in 1985 to reflect the growth of the company's brands, including Harrah's, Embassy Suites, Crowne Plaza, Homewood Suites and Hampton Inns. In 1988, Holiday Inns International was purchased by UK-based Bass PLC (the owners of the Bass beer brand), followed by the remaining domestic Holiday Inn hotels in 1990, when founder Wilson sold his interest, after which the hotel group was known as "Holiday Inn Worldwide". The remainder of Holiday Corporation was spun off to shareholders as Promus Companies Incorporated. In March 1998, Bass acquired the InterContinental brand, expanding into the luxury hotel market. In 2000, Bass sold its brewing assets (and the rights to the Bass name) and changed its name to Six Continents PLC. InterContinental Hotels Group was created in 2003 after Six Continents split into two daughter companies: Mitchells and Butlers PLC to handle restaurant assets, and IHG to focus on soft drinks and hotels, including the Holiday Inn brand.
4.---------------------------------------------------------------------------It would include a bistro-like restaurant and an indoor pool. The first of these prototype hotels, the Holiday Inn Gwinnett Center, was built in Duluth, Georgia, in 2003.
On 24 October 2007, IHG announced a worldwide relaunch of the Holiday Inn brand family. The relaunch will be "focused on delivering consistently best in class service and physical quality levels, including a redesigned welcome experience [and] signature bedding and bathroom products..." The first relaunched Holiday Inn is expected to open in the USA in the spring of 2008.
5-----------------------------------------------------------------------. It was the brainchild of Kemmons Wilson who introduced it to the world when he opened his first motel on August 1, 1952. The signs were extremely large and eye-catching, but were expensive to construct and operate. In 1982, following Kemmons Wilson's departure, the Holiday Inn board of directors made the decision to phase out the "Great Sign" in favor of a cheaper and less catchy backlit sign that still maintained the classic script logo. The decision was not without controversy as it essentially signalled the end of the Kemmons Wilson era and removed a ubiquitous and internationally recognizable company icon. In 2003, in a program of hotel redesign, the company brought back a revamped version of the Great Sign that showed up the company's advertising under the slogan "Relax, it's Holiday Inn." The makeover came with a new prototype hotel that included photography of the sign and a retro-style diner named after founder Kemmons Wilson.
6-------------------------------------------------------------------------In return, Gulf would build service stations on the premises of many Holiday Inn properties, particularly those along or near major U.S. and Interstate highways. Many older Holiday Inns locations (including some no longer part of the chain) still have the service station properties intact today, either still in operation or closed down. With the exception of a few locations in the eastern U.S., hardly any of the still-open stations are now Gulf outlets. The portion of the agreement which permitted Gulf credit cards to be used for payment of food and lodging at Holiday Inns was copied by competing lodging chains and major oil companies during the mid-to-late 1960s. Most of those agreements fizzled out with the 1973 oil crisis. The Gulf/Holiday Inn arrangement ended around 1982.
*Holiday Inn - the most recognizable tier of service. There are two distinct types: high-rise, full-service plaza hotels and low-rise, full-service hotels. The former also included many high-rises with round, central-core construction, instantly recognizable from the 1970s. Both offer a restaurant, pools at most locations, room service, an exercise room, and functional but comfortable rooms.
** Holiday Inn Hotel & Suites - properties offering all the amenities and services of a regular Holiday Inn but consists of rooms mixed with suites.
** Holiday Inn Resort - Offering all the amenities and services of a full-service Holiday Inn, resorts are considered a more of an advertising branding then a completely different brand. Most Holiday Inn Resort's are located in high leisure tourism markets.
*Holiday Inn Select; upper range full-service hotels which cater to business travellers. In 2006, it was announced that Holiday Inn Select hotels will be discontinued. Existing hotels may continue to operate under the Holiday Inn Select flag until their existing license expires, however many are converting to Crowne Plaza or regular Holiday Inn hotels. The Select brand is effectively dead, with no further marketing or advertising based around the "Select" moniker.
*Holiday Inn Sunspree Resorts; properties in resort areas with full-service amenities and deluxe service. These are typically very large properties.
*Holiday Inn Garden Court – which exist only in Europe and South Africa and are designed to reflect the national culture
*Nickelodeon Family Suites; Nickelodeon-themed Holiday Inn hotel near Orlando, Florida
*Holiday Inn Express (currently known as Express by Holiday Inn outside North America, however IHG plans to standardize as Holiday Inn Express worldwide by 2010) is a mid-priced hotel chain within the IHG family of brands. As an "express" hotel, their focus is on offering solid value at a reasonable price. Standard amenities lean toward the convenient and practical which cater to business travellers and short-term stays.
On-site restaurants and lounges are not present in most U.S. properties, while many other inns worldwide offer small venue food & beverage offerings. Most hotels offer a fitness center, indoor swimming pools and a hot tub. Complimentary hot breakfasts are available for travellers on-the-go (including award-winning cinnamon rolls) and guests also receive complimentary toiletries, including staples such as shampoo, mouthwash, lotion and grooming items.
Because the chain has been undergoing tremendous growth, the majority of Holiday Inn Express hotels are brand new or newly renovated. Though most Holiday Inn Express hotels are smaller than their sister Holiday Inn hotels they are equally ubiquitous, conveniently located in cities and small towns alike. Their no-nonsense value offerings allow them to serve smaller markets more efficiently.
In the mid-2000s, Holiday Inn Express began producing humorous television commercials featuring "average Joes" performing extraordinary activities that only experts would know. The concept attributes these exaggerated abilities to the fact that they "stayed at a Holiday Inn Express last night". The campaign reflects the brand's slogan "Stay Smart" which is still in use today.
7-----------------------------------------------------------------------------. The hotel chain has teamed up the AOL and HBO's new comedy site, "This Just In", to develop a two-month daily web series called "The Smart Show". The premise of the show is a virtual tour with the two hosts on a coast-to-coast road trip exploring what's so smart about America. The idea is to showcase the diverse and non-traditional culture of "smart", such as people, places, businesses and inventions that are clever, witty, and unexpected as opposed to simply "book smart". Beginning in Boston, Massachusetts, the travelling show will stop along major metropolitan cities as well as small, back road towns on the way to Los Angeles, California, where the program ends in December 2007. Website visitors will be able to interact with the hosts, submit their own video content about smart ideas in their home towns and respond to other smart postings. In effect, the site is a forum for an open-ended conversation about the meaning of "smart".
Holiday Inn Express has also reinforced their "Stay Smart" slogan online by opening an Internet "Smart Mart" on their website allowing customers to buy showerheads, towels, toiletries, and cinnamon rolls identical to those featured at the hotels. There are over 1,500 Holiday Inn Express hotels worldwide
4. Project work.
You are the owner of world famous hotel chain. What countries you are going to locate hotels and motels. Describe facilities of these hotels motels. Make a presentation of your Hotel Chain in your group.
Chapter 8. Transportation
Lead-in
1 Is transportation a vital aspect in tourism?
2 What are the advantages of traveling by railway?
3 How do people usually travel when they go abroad?
Discussion
Look at the photos and enumerate as many kinds of transport as you can. Try to point out all advantages and disadvantages of each way of traveling.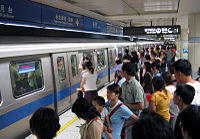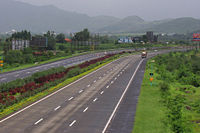 The Ximen station, one of the stations of Metro Taipei. The Mumbai-Pune Expressway in India.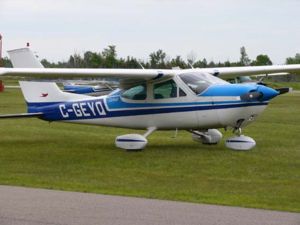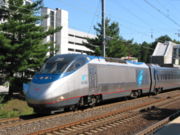 A Cessna 177 propeller-driven general aviation aircraft.     Acela Express, an American high-
                                                                                               speed passenger train.